Vision and Strategy
SK materials generates a wide range of social value so that our communities can experience sustainable happiness.
SK materials works in harmony with the society by not only contributing to economic growth but by also generating social value so that it can build a society in which all members can achieve happiness. Not only for corporate stability and economic growth, SK materials creates social value also for the sustainable happiness of all its stakeholders, today and in the future. This will drive the continuous growth and development of the company, thereby creating a virtuous circle. With confidence in this paradigm, SK materials dedicates resources and time towards this aim.

Sustainablility Report
SK Materials is evolving into a company that leads ESG in the global materials industry.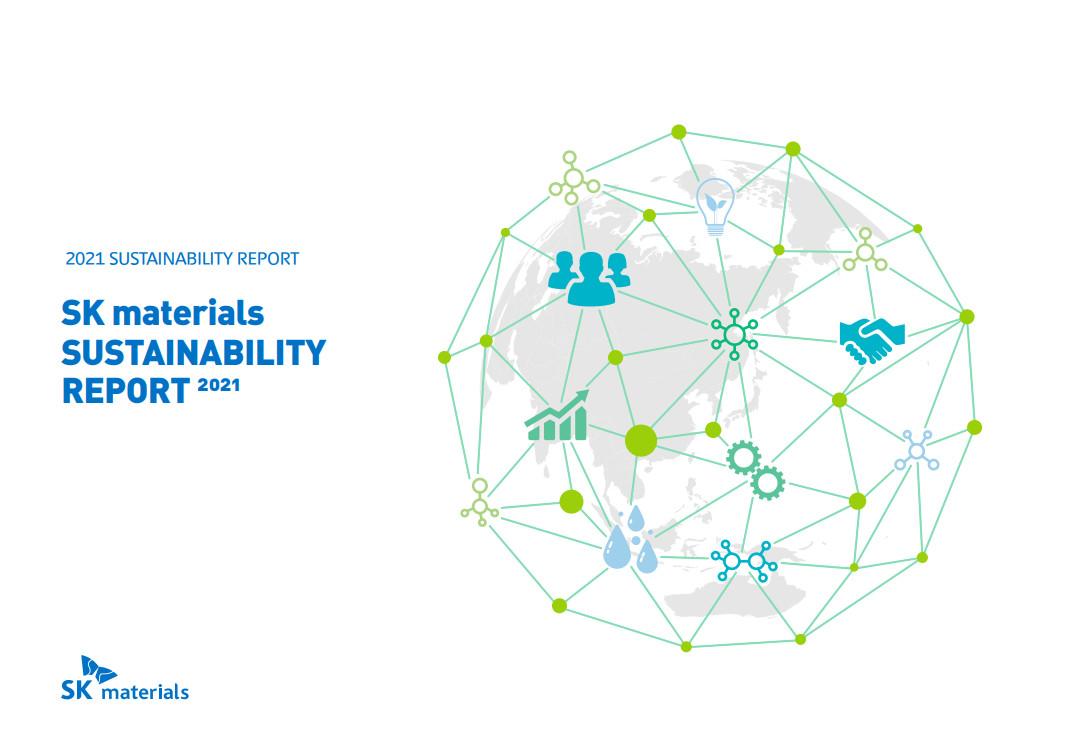 2021 SUSTAINABILITY REPORT
This report is Sustainability Report of SK materials and includes its performance and plans related to ESG (Environment, Social, and Governance). This allows SK materials to communicate transparently with its various stakeholders, and SK materials will continue to share its progress of sustainable development and strengthen trust with various stakeholders through publishing the Sustainability Report every year.
Key Activities
SK materials makes social contributions in various fields.
Efforts to Resolve EnvironmentalIssues
Improvement of production processes to raise energy efficiency and to minimize carbon emission.
Investment in pollution control devices to reduce emission of pollutants and expansion of measures to reuse and recycle resources.
Development of environmentally friendly industrial materials for the future to promote sustainable growth.
Stakeholder's reassurance through Safe and conscious Plant Management
Expansion in investment in safety equipment and facilities, and implementation of innovative safety measures at the manufacturing sites will reassure all citizens, customers, partner companies, SK employees, and the regional communities.
Cooperation with partner companies and share its knowledge and know-how on safety enhancement so that SK materials is able to contribute to national safety and to prevent chemical incidents and emergencies.
Win-win Cooperation and Mutual Growth with Diverse Stakeholders
Build a platform for industrial materials based on partnerships with customers and partner companies through open collaboration with such persons.
Labor and Management Relations
The company and employees actively engage with labor issues that arise from workplace culture and on the job as part of an effort to resolve social concerns.
Corporate Social Responsibility(CSR) Activities
Vibrant CSR programs to foster a win-win relationship with the regional community and bolster economic growth in the region.
Employee participation in CSR activities that help sponsor marginalized groups and nurture human talent.