Business Information
Gas & IT Materials Total Solution Provider SK materials drives advancements in IoT, big data, and autonomous car industries through production, sale,
and integrated service delivery of key components in semiconductors, display panels, and solar cells.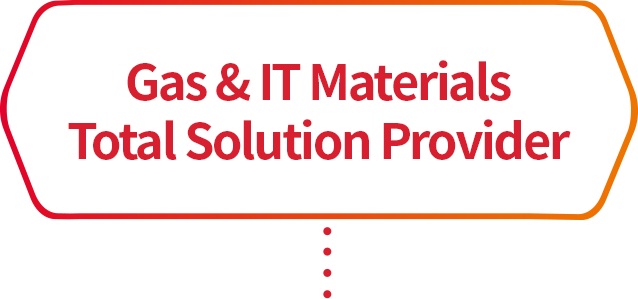 Cleaning Gas

As the first manufacturer of nitrogen trifluoride(NF3) in Korea, SK materials has been stably providing its customers with high-quality nitrogen trifluoride through novel technology development and proactive investments in facilities since 2001.

Deposition Gas

SK materials manufactures and sells various deposition gases for deposition of film in semiconductors, display panels, and solar cells. SK materials continuously develops new deposition gases to keep pace with the rapid changes in the IT industry.

Industrial Gas

Industrial gases are being used in various industries, such as petrochemicals, semiconductors, steel, healthcare, and food. SK materials highly purifies its industrial gases by using air-separation units and stably delivers them by means of on-site supply, pipelines, and tank lorries.

Etching Gas

Among the various etching gases, SK materials portfolio is focused on high-precision gases, such as monofluoromethane(CH3F), hexafluorobutadiene(C4F6), and difluoromethane(CH2F2). In the future, SK materials will also provide more diverse etching solutions.

* Etching gases etch the shape of a space for circuit in the semiconductor prior to the circuit formation of semiconductor. They are in high demand as they are essential in achieving greater precision in 3D structures.

Precursors

SK materials is developing high-quality next generation products and provides Zr, Si, Ti, and Hf precursors for the rapidly growing IT semiconductor industry. SK materials, The No.1 global specialty gases provider recognized in the semiconductor market for its reliability and customer responsiveness, is collaborating with Tri Chemical Laboratories, a Japanese precursor tech leader. This partnership will serve as a future growth engine that will maximize both profitability and growth.

High Performance Wet Chemical

As device structures are being advanced, wet cleaning and etch steps become more critical in the chip-making process. And It is required to develop an optimized product to customer's process and to supply huge volume with consistent quality. SK materials will be able to provide various wet chemical solutions in the near future by expanding its portfolio.

Other High-Purity Gas

In addition to manufacturing value-added items that are increasingly in demand due to the expansion of 3D NAND and microfabrication processes, SK materials offers various services to its customers, such as sourcing, refinement, and mixing.

Integrated Services

As a reliable partner for customers, SK materials provides all-in-one service from product manufacturing to supply, management, and logistics, which includes the operation of a bulk specialty gas supply (BSGS) system and integrated logistic warehouses.
Next-generation Product Development
Battery Materials
Photo Materials
Application Expansion and Quality Differentiation
Rather than being satisfied with its technological excellence,
SK materials seeks to acquire innovative competitiveness and enter into the global top tier.