Etching Gases
SK materials leads the global etching gas market based on its advanced technological standards.

Among the various etching gases, SK materials' portfolio is focused on high-precision gases,
such as Monofluoromethane (CH3F), hexafluorobutadiene (C4F6), and difluoromethane (CH2F2).
In the future, SK materials will also provide more diverse etching solutions.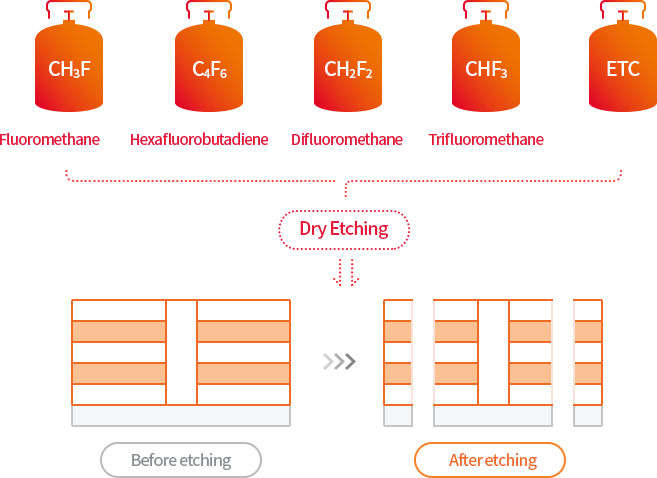 Etching gases etch the shape of a space for circuit in the semiconductor prior to the circuit formation of semiconductor. They are in high demand as they are essential in achieving greater precision in 3D structures.
MonofluoromethaneCH3F

CH3F, an etching gas for nitride films in 3D NAND flash memory devices, is becoming more widespread with the increase of 3D NAND use. SK materials is the first and only manufacturer of CH3F in Korea.

Hexafluorobutadiene C4F6

C4F6 is used in the etching of oxide films for miniaturized DRAMs and 3D NAND flash memory devices. C4F6 has seen a significant increase in demand.

Difluoromethane CH2F2

CH2F2, along with CH3F, is a gas used in etching nitride films in NAND flash memory devices. It has been widely utilized since 3D NAND has been increasingly used in the recent.

Trifluoromethane CHF3

Used in the process of 3D NAND Flash memory nitride layers and microscopic DRAM nitride layers etching.
Through cooperation with Showa Denko, Japan, SK materials provides
the local semiconductor market with a stable supply of high-quality etching gases.
It seeks to lead the etching gas market through
proactive response to customer needs and continuous research.